Smartphones are more and more becoming a runner's best friend. Information on distance, pace, routes are no longer limited to those who could afford expensive GPS watches - free apps can track all that for you.
Some runners baulk at the idea of carrying a phone whilst running but I found after a couple of runs it became second nature and I don't really notice it anymore. There are also clips you can get to keep your phone strapped to your shoulder or waist if you don't want to carry it in your hand. The only real downside can be battery life - GPS drains your battery so if you're heading out for an hour or longer, make sure your phone is well charged. Similar to GPS watches, accuracy can be a problem if you start running too soon after opening the app, allow a minute or so for the GPS to pinpoint where you are before hitting start.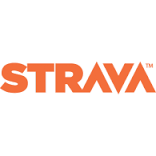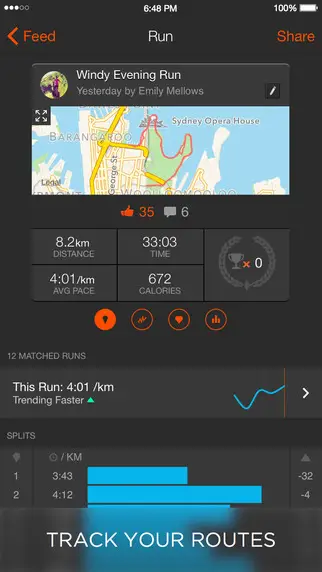 Strava is my app of choice. Originally created for bike riders, in 2014 the app branched out to running and is quickly becoming the most popular app for runners.
Strava keeps track of the usual stats but it's the social side that sets it apart from the other apps. You can 'follow' runners in a similar way that you follow friends on Facebook, and this allows you to see their most recent training activities. You can then like or give 'kudos' as Strava calls it, and add comments. In term, others can follow you and keep track of your training efforts.
The feature unique to Strava is 'segments'. A segment is a user defined section of a running route - it has a starting and finishing point and it can be any distance. Strava then produces a leaderboard of any Strava user who has run through that 'segment', allowing you to compare your run against other users (including those you do and don't follow). You can also compare your effort along a particular segment to your previous attempts.
It's these two unique features which led me to Strava - I find they often provide that additional level of motivation I need to get me out on the track where I'd normally stay in bed!
Strava is available for iPhone and Android.

Run Keeper is the app I used prior to Strava. It has all the features you'd expect, measuring time, distance, pace, mapping your route, as well as options for following specific workouts (interval or fartlec training).
It has a great web site too so you can login once you're back and check your stats.
As mentioned above, Strava is now my app of choice, however if there's one feature I miss it's the interval training. Run Keeper allowed me to setup an interval training run and would alert me when to start or stop a specific interval. For example, I could setup 7x1km with 60 seconds rest in between.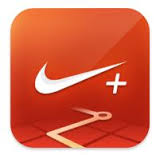 Nike + review coming soon.
Story Running
Story running is where an app will tell you a 'story' through your headphones whilst you're running.
I'll be reviewing these shortly.
Also check out our review on the Moto 360 Sport.